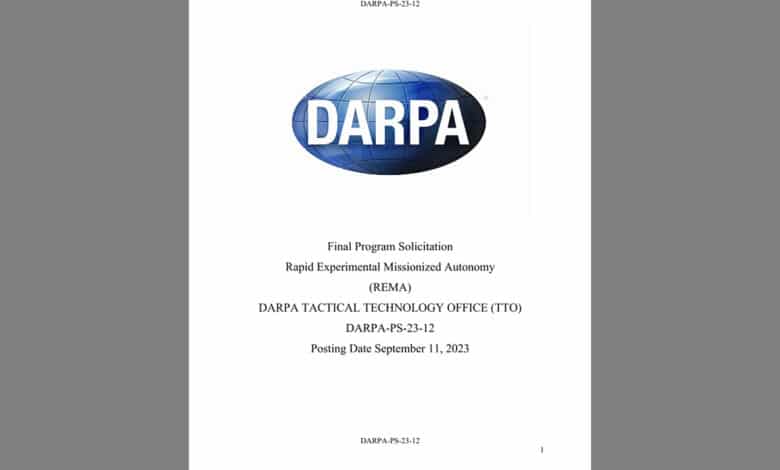 DARPA just published an RFP titled "Rapid Experimental Missionized Autonomy (REMA)". Available here: https://sam.gov/opp/7738334d62074883b03f5c4293e38315/view#general
RFP General Information
Contract Opportunity Type: Presolicitation (Original)
All Dates/Times are: (UTC-04:00) EASTERN STANDARD TIME, NEW YORK, USA
Original Published Date: Sep 11, 2023 04:51 pm EDT
Original Response Date: Oct 30, 2023 05:00 pm EDT
DARPA is actively seeking technological solutions to enhance the autonomous capabilities of commercial drones. The rapid advancements in commercial drone technology have paved the way for their cost-effective and efficient use in various civil and military operations. However, with small aerial vehicles becoming increasingly crucial in military contexts, adversaries are devising electromagnetic countermeasures. These countermeasures can disrupt the communication between the drone and its operator, leading to potential mission failures, drone returns, or crashes.
To counteract this, DARPA has introduced the Rapid Experimental Missionized Autonomy (REMA) program. The primary objective of REMA is to ensure that drones can autonomously proceed with their pre-set missions even if the connection with the operator is severed. The program challenges participants to develop a subsystem that facilitates the autonomous functioning of various commercially available drones without being restricted to a particular drone model. Additionally, the initiative aims to produce autonomy software tailored to specific missions through swift, iterative development cycles. The goal is to create an "autonomy adapter" compatible with all commercial drones, irrespective of the manufacturer. This adapter would allow for the easy upload of mission-specific autonomy software, ensuring drone operators maintain an edge in fast-paced combat situations. The essence of REMA is to prioritize speed, both in technological advancements and on the battlefield.
For 30+ years, I've been committed to protecting people, businesses, and the environment from the physical harm caused by cyber-kinetic threats, blending cybersecurity strategies and resilience and safety measures. Lately, my worries have grown due to the rapid, complex advancements in Artificial Intelligence (AI). Having observed AI's progression for two decades and penned a book on its future, I see it as a unique and escalating threat, especially when applied to military systems, disinformation, or integrated into critical infrastructure like 5G networks or smart grids. More about me, and about Defence.AI.