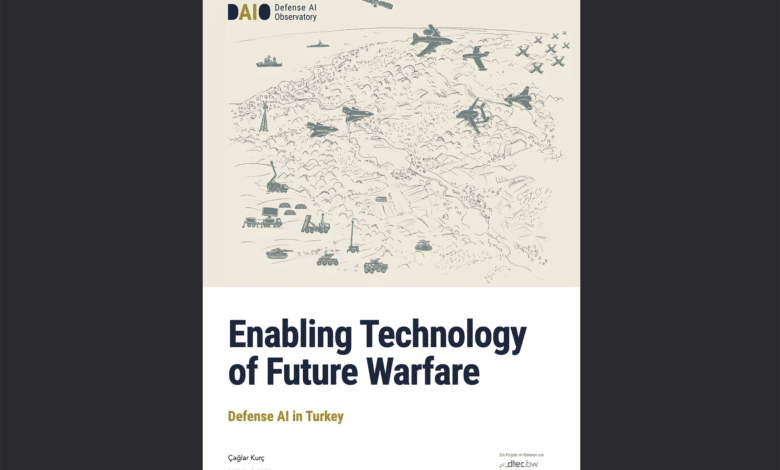 The Defense AI Observatory (DAIO) at the Helmut Schmidt University in Hamburg has released a new study examining the utilization of defence artificial intelligence (AI) in Turkey. The complete study titled "Enabling Technology of Future Warfare" can be accessed through this link [PDF]: https://defenseai.eu/wp-content/uploads/2023/01/DAIO_Study2308.pdf. The study provides valuable insights into various aspects of the Turkish military AI applications.
Turkey is making significant inroads in the realm of defense, particularly in the integration of Artificial Intelligence (AI). As the global landscape of warfare evolves, Turkey is keenly aware of the transformative potential of AI and is actively shaping its defense strategies to harness this potential.
Autonomous systems are poised to redefine the future of warfare, and Turkey's defense AI development is centered around enhancing the capabilities of these systems. The focus is not just on the autonomous systems themselves but also on the sensors and decision support systems that support them. The goal is to improve intelligence gathering, enhance combat capabilities, and enable swarm operations. While the capabilities of autonomous systems are being expanded, Turkey envisions a future where humans remain at the core of decision-making. This human-centric approach ensures that while machines may aid in operations, critical decisions remain a human prerogative.
However, the integration of humans and machines presents its own set of challenges. The rapid pace of development and deployment of autonomous systems has highlighted issues in human-machine interaction. As representatives from the Turkish defense industry have pointed out, while it might be relatively straightforward for machines to communicate with each other, integrating humans into this mix is more complex. The existing structures are not necessarily conducive to effective human-machine interactions. There's a growing belief that enhancing decision-making systems with AI could facilitate faster human decisions and streamline interactions between humans and machines.
Turkey's roadmap for AI in defense is well-documented. Various official strategy documents and R&D focus group reports provide insights into the nation's intentions and plans. These documents underscore Turkey's commitment to AI and highlight the strategic areas of focus for the coming years.
For 30+ years, I've been committed to protecting people, businesses, and the environment from the physical harm caused by cyber-kinetic threats, blending cybersecurity strategies and resilience and safety measures. Lately, my worries have grown due to the rapid, complex advancements in Artificial Intelligence (AI). Having observed AI's progression for two decades and penned a book on its future, I see it as a unique and escalating threat, especially when applied to military systems, disinformation, or integrated into critical infrastructure like 5G networks or smart grids. More about me, and about Defence.AI.