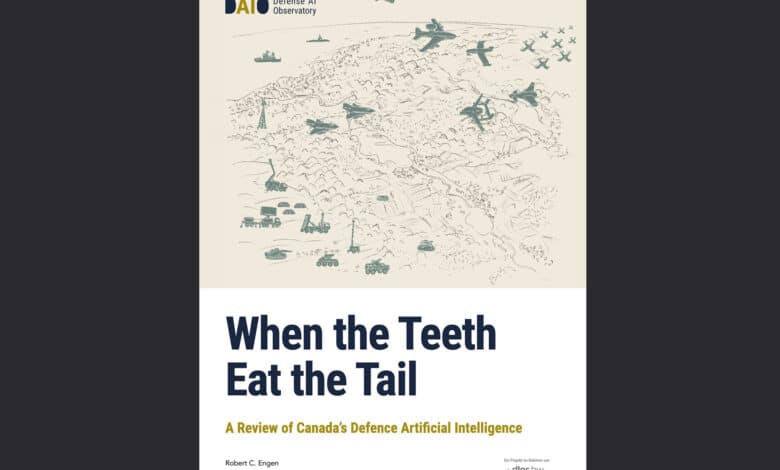 The Defense AI Observatory (DAIO) at the Helmut Schmidt University in Hamburg has released a new study examining the utilization of artificial intelligence (AI) by the Canadian Department of National Defence/Canadian Armed Forces (DND/CAF). The complete study titled "When the Teeth Eat the Tail: A Review of Canada's Defence Artificial Intelligence" can be accessed through this link [PDF]: https://defenseai.eu/wp-content/uploads/2023/02/DAIO_Study2309.pdf. The study provides provides a comprehensive overview of the current and potential future uses of artificial intelligence (AI) in Canada's defence sector.
Currently, AI systems are finding limited operational and business applications within the Canadian military establishment. The Defence Research and Development Canada (DRDC) is the primary entity within the Canadian defence community researching AI technologies. The DRDC's role is to provide leadership and advice on defence science and technology issues, engage and collaborate with a network of domestic and international partners, and ensure coherence of defence and security science, technology, and innovation investments. The organization has invested in AI and machine learning research for decades, both internally and externally, resulting in a significant body of work associated with and funded by DRDC.
Despite these efforts, the study suggests that the Canadian Armed Forces (CAF) face significant challenges in implementing large-scale AI systems. These challenges are primarily historical, cultural, and organizational, rather than technical. The CAF is heavily decentralized, with its "Level 1" organizations developing capabilities in isolation. The organization's enterprise-wide information management has been problematic for more than two decades, and its data stewardship is a constant source of scandal and embarrassment.
Looking towards the future, the study suggests that AI technologies will continue to be used in Canada's Department of National Defence and Canadian Armed Forces at a modest pace. However, the organization faces serious challenges to any kind of digital transformation or large-scale adoption of defence AI systems.
In terms of specific future applications, the Canadian Army's recent Modernization Strategy prioritizes the modernization of their operational C4ISR (command, control, communications, computers, intelligence, surveillance, reconnaissance) capabilities, while putting off the establishment of a "digital army" with data analytics and artificial intelligence until a minimum 2025–2030 timeframe. The C4ISR capabilities are likely to involve AI components, and several ISR-related projects are going through the IDEaS process now. However, these will be narrow tactical applications of the technologies, embedded within existing organizational stovepipes and without wider integration.
The Royal Canadian Navy has awarded a contract to Kraken Robotic Systems Inc. to provide remote mine hunting and mine disposal equipment, which includes autonomous underwater vehicles and the use of Kraken's AquaPix synthetic aperture sonar and its image processing software that allows for embedded automatic target recognition and data exfiltration.
Despite the potential for AI in defence, the study concludes that short of major structural and cultural change within DND/CAF, it seems extremely unlikely that Canada will be able to make meaningful steps towards large-scale implementation of defence AI this decade.
For 30+ years, I've been committed to protecting people, businesses, and the environment from the physical harm caused by cyber-kinetic threats, blending cybersecurity strategies and resilience and safety measures. Lately, my worries have grown due to the rapid, complex advancements in Artificial Intelligence (AI). Having observed AI's progression for two decades and penned a book on its future, I see it as a unique and escalating threat, especially when applied to military systems, disinformation, or integrated into critical infrastructure like 5G networks or smart grids. More about me, and about Defence.AI.