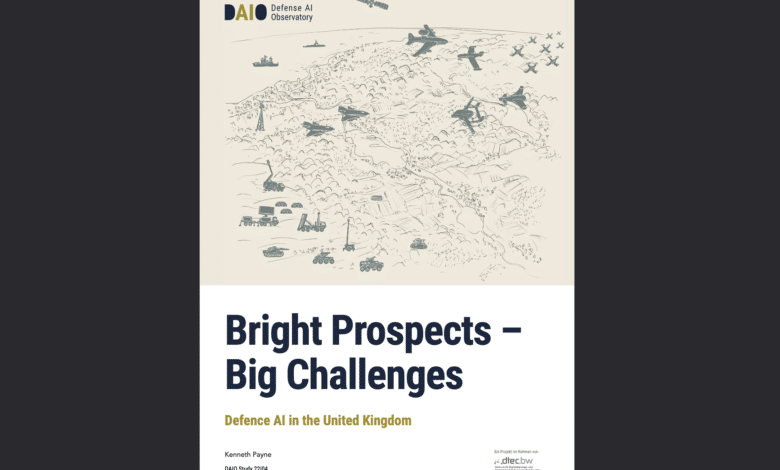 The Defense AI Observatory (DAIO) at the Helmut Schmidt University in Hamburg has released a new study examining the utilization of artificial intelligence (AI) by the United Kingdom military. The complete study titled "Bright Prospects, Big Challenges" can be accessed through this link [PDF]: https://defenseai.eu/wp-content/uploads/2023/01/DAIO_Study2204.pdf. The study provides provides a comprehensive overview of the current and potential future uses of artificial intelligence (AI) in the UK defence sector.
The United Kingdom is well-positioned to benefit from the transformative power of Artificial Intelligence (AI) in the realm of national security. Recent years have witnessed the UK making significant strides in charting a comprehensive AI strategy for defence and national security, a testament to its commitment to staying ahead of the curve.
The UK is superbly poised to leverage the advancements in AI, especially in national security. This is evident from the initiatives undertaken in recent years, such as the development of an AI strategy tailored for defence and national security. Collaborative efforts span across government sectors, industries, and academic institutions. The military, in particular, is actively experimenting with autonomous platforms, reimagining doctrines, and conceptualizing strategies for their effective deployment. The British military's portfolio is expanding to include aerial drone swarms, pilotless "loyal wingmen," uninhabited submersibles, and tactical ground robots. These developments are complemented by extensive partnerships with industry and academia. In the realm of data processing and intelligence analysis, autonomous systems are already making their mark.
Furthermore, the ethical implications of AI in national security are a focal point of discussions across the defence sector and the wider society. Topics such as the employment of lethal force by AI systems are under rigorous scrutiny. The pace of change is rapid. New organizational structures are emerging, dedicated career streams are being considered, military education is increasingly integrating AI studies, and a slew of new military systems, including weapon systems, are on the horizon.
However, the journey is not without its challenges. The future of AI is shrouded in uncertainty, and concerns about its application in defence are manifold. Ethical considerations aside, questions arise about the robustness of AI systems against adversary counter-measures, including potential threats from electronic and cyber warfare. The susceptibility of AI systems to biases and their performance in uncharted battle scenarios are areas of concern. These challenges are magnified by Britain's aspiration to maintain a full spectrum of military and intelligence capabilities, operate globally, and undergo significant technological transformation simultaneously. The British defence budget, although substantial and growing, has to be balanced against its expanding aspirations and commitments. The task of pioneering new technologies, such as AI, hypersonic missiles, satellites, 6th generation fighter aircraft, and a new generation of nuclear submarines, while maintaining a well-rounded armed force, is indeed daunting.
The broader economic and political landscape also presents challenges. The coming years are expected to be marked by economic hurdles, including high inflation and slow growth, a combination that has been absent for a while.
In conclusion, the UK's journey with Defence AI is a blend of bright prospects and significant challenges. The nation's commitment to innovation, coupled with its strategic approach, will undoubtedly shape its future in the global defence landscape.
For 30+ years, I've been committed to protecting people, businesses, and the environment from the physical harm caused by cyber-kinetic threats, blending cybersecurity strategies and resilience and safety measures. Lately, my worries have grown due to the rapid, complex advancements in Artificial Intelligence (AI). Having observed AI's progression for two decades and penned a book on its future, I see it as a unique and escalating threat, especially when applied to military systems, disinformation, or integrated into critical infrastructure like 5G networks or smart grids. More about me, and about Defence.AI.