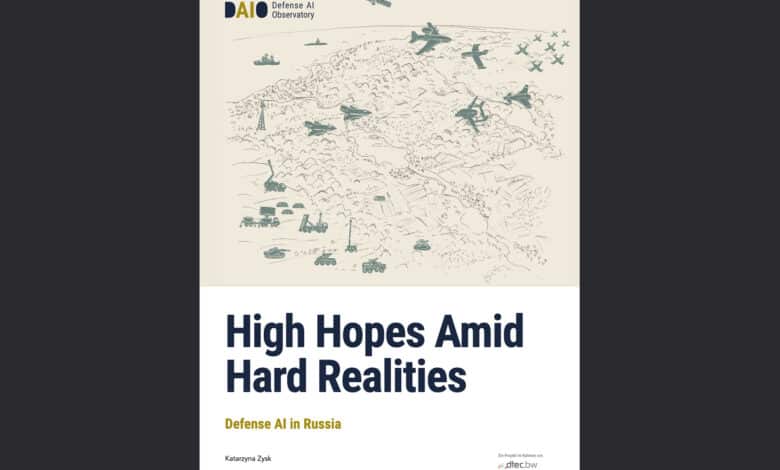 The Defense AI Observatory (DAIO) at the Helmut Schmidt University in Hamburg has released a new study examining the utilization of artificial intelligence (AI) by Russian military. The complete study titled "High Hopes Amid Hard Realities: Defense AI in Russia" can be accessed through this link [PDF]: https://defenseai.eu/wp-content/uploads/2023/02/DAIO_Study2311.pdf. The study provides provides a comprehensive overview of the current and potential future uses of artificial intelligence (AI) in Russia's defence sector.
Current Use of AI in Defence
Russia's top political and military leadership has been increasingly focused on the development of defence AI, viewing it as critically important for national security, socioeconomic development, sovereignty, and Russia's influence on the international stage. The state has brought in the support of major state companies and corporations, academic and scientific institutions, and some private actors to accelerate the development.
The Russian defence AI is evolving incrementally, rather than via abrupt changes. Russia is upgrading legacy systems with new technologies, while experimenting with selected "risky projects", i.e., novel weapons systems, materials, and methods of warfare. The list of military and civilian dual-use AI programs is expanding and includes weapons systems, military and special equipment, and infrastructure that are at various stages of research, development, experimentation, training, and deployment.
However, the overall limited deployment of AI-enabled systems to date indicates that the Russian AI is still in early stages of maturity. The high-tech development has been undermined by periods of economic stagnation and recession, aggravated by the COVID-19 pandemic, several rounds of sanctions, a massive outflow of international corporations, worrying demographic trends, and weak educational foundations.
Future Use of AI in Defence
Looking ahead, a growing experience of the Russian operators with the use of AI-enabled systems, their proven battlefield advantages, and a demographic shift to a generation born into technology and more familiar with using it can facilitate the transition to a broader use of AI-enabled systems. Despite the uncertainty about the further impact of the structural and circumstantial impediments to high-tech development, it is highly likely that AI will remain a top priority for Russia as a shield against new threats and a promise of a major military boost.
Despite economic challenges, including periods of economic stagnation and recession, aggravated by the COVID-19 pandemic, several rounds of sanctions, and other factors, Russia has shown a willingness to prioritize the defence sector. As the 2023 state budget priorities suggest, spending on the military and security services is planned to increase from 24 percent in 2022 to approx. 33 percent in 2023 (RUB9.5 trillion, approx. €120 billion), at the expense of welfare, education, and the Russian taxpayers. However, the exact amount that will be directed to R&D is yet to be seen.
In addition to funding, several other factors will influence the future of Russian AI R&D. One important aspect is Russia's ability to circumvent sanctions and level out its dependence on Western technology, such as software and semiconductors imported from the US, Taiwan, and South Korea.
In terms of specific branches of the military and their AI projects, the report mentions that Russia has been pursuing a wide range of programs aimed to leverage AI technologies and capabilities in the armed forces and security services. As of September 2022, the MoD's Main Directorate of Innovative Development has accompanied over 500 projects for subsequent implementation, 222 of which were planned for completion and implementation in 2022. These projects span several priority areas, including command, control, communication and decision-making; unmanned vehicles for missions such as surveillance, reconnaissance, situational awareness, search and rescue, target acquisition, attack; nuclear weapons, high-precision and other weapon systems; air defence, early warning, electronic warfare, space-based systems; training, logistics, manufacture; cyber operations, and influence operations to shape the psychological domain.
In conclusion, while Russia is currently in the early stages of AI maturity, it is actively pursuing AI development for its defence sector. Despite facing several challenges, it is expected that AI will remain a top priority for Russia's defence in the future.
For 30+ years, I've been committed to protecting people, businesses, and the environment from the physical harm caused by cyber-kinetic threats, blending cybersecurity strategies and resilience and safety measures. Lately, my worries have grown due to the rapid, complex advancements in Artificial Intelligence (AI). Having observed AI's progression for two decades and penned a book on its future, I see it as a unique and escalating threat, especially when applied to military systems, disinformation, or integrated into critical infrastructure like 5G networks or smart grids. More about me, and about Defence.AI.